ORANGE TREE PLANTER MADE OF CORTEN STEEL - LE NÔTRE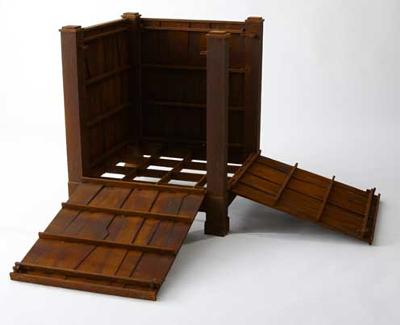 Each box carries an individual serial number inscribed on a plate attached under the structure, in order to allow a precise tracing of the date of manufacture and of the customer's identity.
The Le Nôtre LN013 tree box has been adapted to afford the best care to trees and bushes of all species.
Bottomless and without internal tray, growth of plants is enhanced by better drainage and proper ventilation of the soil.
The four side-panels can be opened, allowing direct access to the soil and the necessary care of the roots.
This rigorous attention to such horticultural qualities, combined with contemporary aesthetics, will convince designers of architectural and landscaping projects.
Contemporary orange tree planter based on the same horticultural principle as the "Chtâteau de Versailles®" planter.
The panels are articulated around an axis at their base and open when tilted.
This planter is composed of 8, 10 and 12 mm Corten steel sheets, soldered together.
As an option, an "Astrolab" ball can be mounted on the top of each of the four legs.
Presented model: 700 x 700 mm. Please contact us for any further information regarding the sizes.
.